ProHub 2WD Chassis Dynamometers
The Mainline DynoLog Portable ProHub 2WD Chassis Dynamometers are the ultimate tuning solution for ultra-performance vehicle applications. Designed for testing extreme streetcar and drag cars, the ProHub Portable Chassis Dynamometers bridge the gap between an engine dynamometer and a roller-based chassis dynamometer.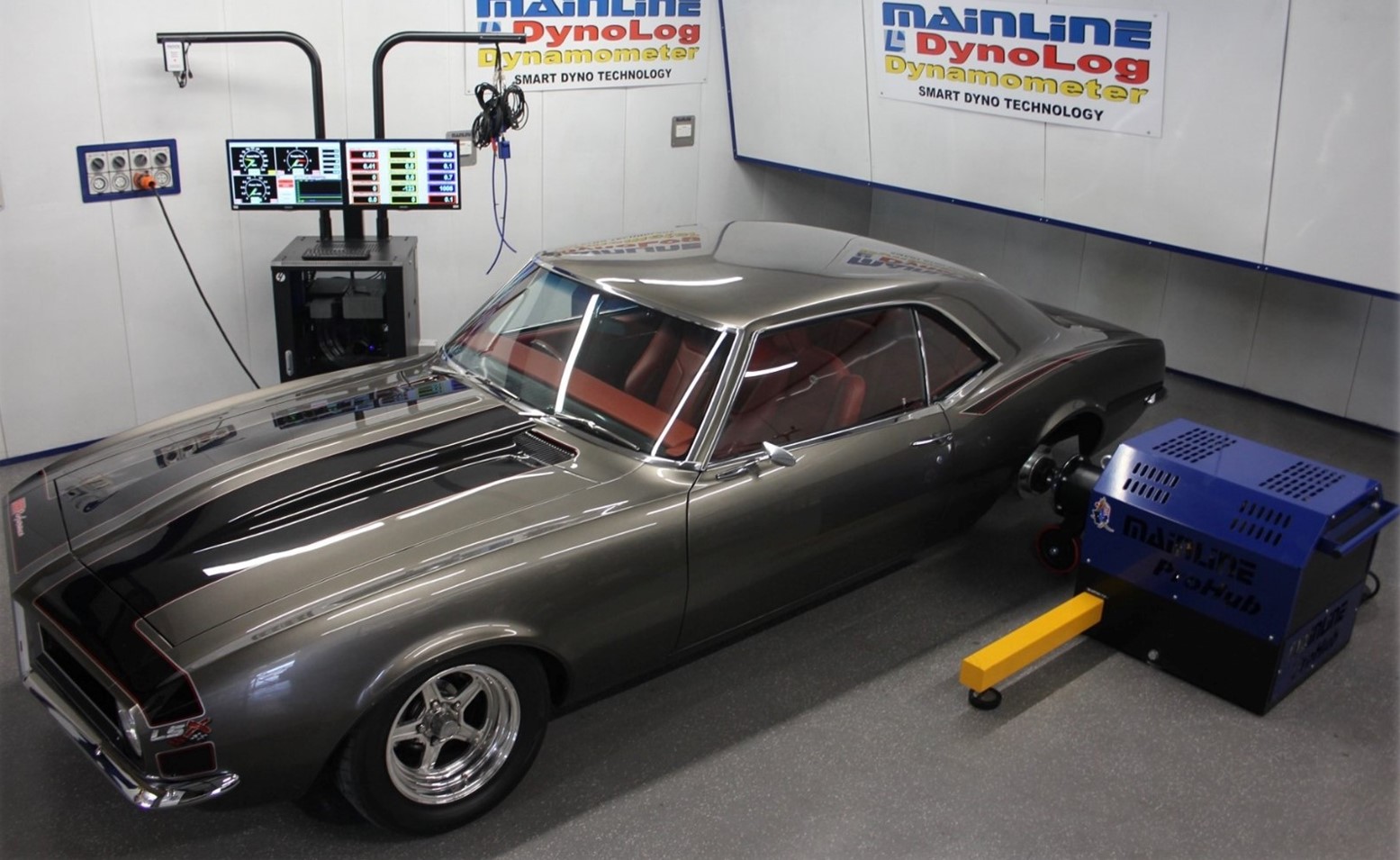 ProHub Portable (2WD Axle Shaft)
The Portable ProHub Chassis Dyno system provides an effective "in chassis" tuning solution, without the need to remove the engine, or to hire a drag strip facility. Both these tuning options require a significant amount of time, money, and effort to be able to achieve practical results. In some cases, even an engine dynamometer cannot cope with the power and torque levels produced by such engines, and a traditional roller-based chassis dyno, which relies on the tyre to roller interface (traction), is simply out of the question. 
The Portable ProHub Chassis Dynamometers are available in 2000hp or 3000hp models, are quick to setup, easy to move around your shop, or can be stored away when not in use. The Portable ProHub models can also be upgraded to a ProHub AWD model if ever required after initial sale.
The Portable ProHub 2WD Dynamometer connects directly to the vehicle's axle hubs, via billet steel adaptors, effectively removing wheel and tyre related variables from the testing and tuning equation, for absolute accuracy, and the ultimate in test data repeatability from power run to power run.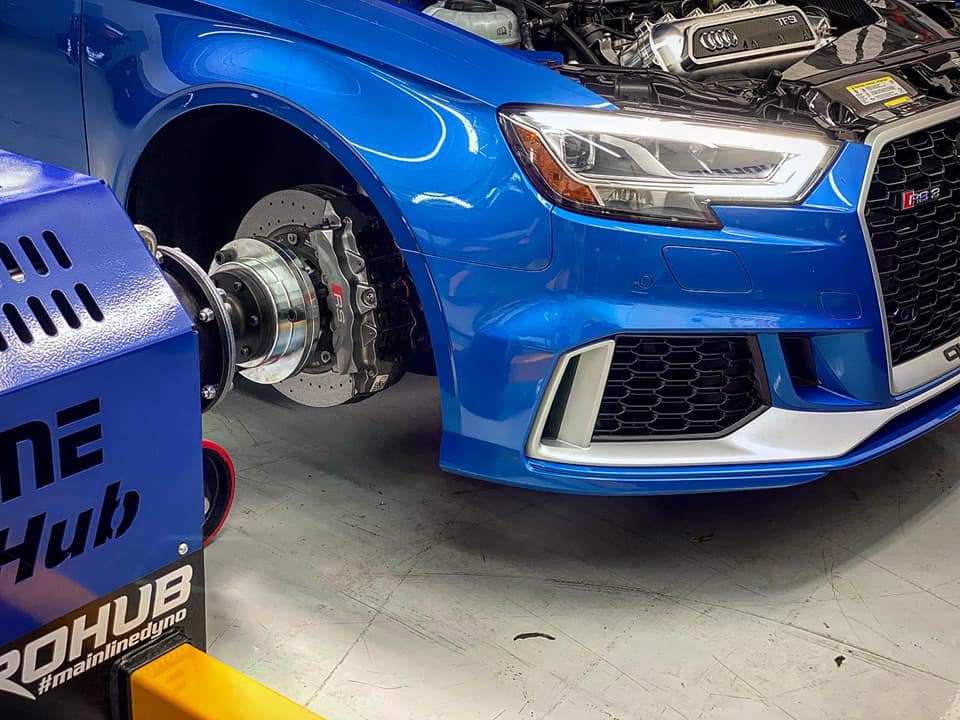 All 2WD Portable ProHub models are maximum speed rated up to 3600 axle rpm or equivalent road speeds of up to 310 mph (500 kmph) subject to vehicle gearing. The "Power Absorption Modules" (PAMS) on the 2000hp & 3000hp models have integrated wheel assemblies allowing them to be easily moved to the vehicle, correctly aligned, and quickly connected to the vehicle's axle hubs.
After testing is completed, the PAMS can be rolled away and stored when not in use.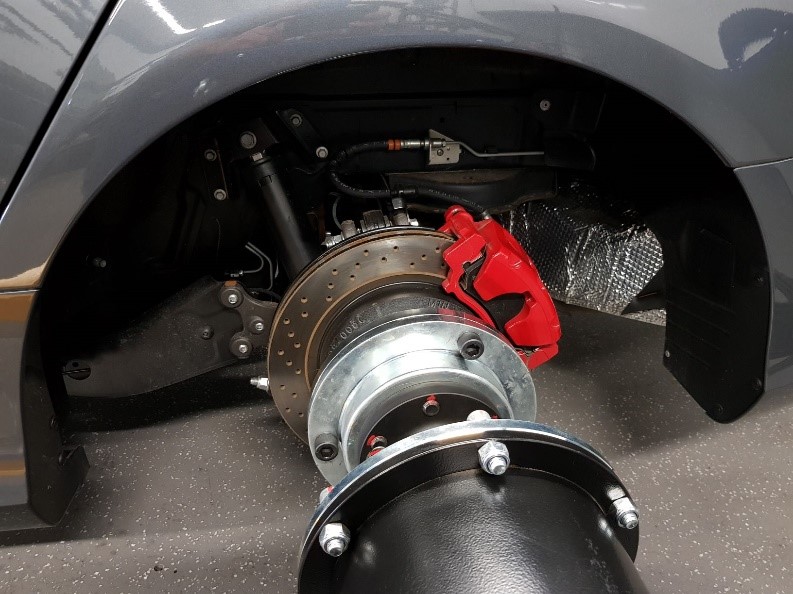 Portable ProHub dynamometers will accommodate up to +/- 10 °camber and 10 ° toe in /out, to accommodate live axle and IRS systems.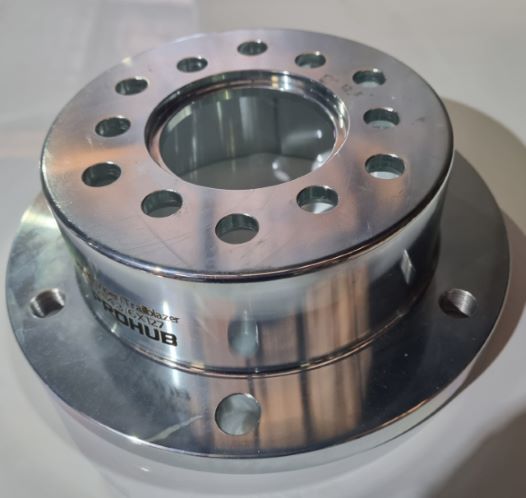 Hub Adapter Sample 
Applications for the ProHub dynamometers include performance tuning, ignition timing perfection, pre-race testing, driveline torque testing, clutch evaluation, stall convertor mapping, multiple stage nitrous injection testing, and performance product research and development.
The ProHub Chassis Dynamometer can also be setup as a very cost-effective engine testing solution, in comparison to setting up a complete engine dynamometer facility.  
Key Features
High quality, heavy duty, visually aesthetic power absorption modules (PAMS)
Space saving design - Can be easily moved and/or stored when not in use
Modules incorporate internal wheel assemblies – (Easy to relocate within your shop)
Adjustable length torque reaction stabiliser bar (Operational stability & safety)
Quality high torque capacity Frenelsa retarders (Power absorption units)
Precision Load cells (Individual Torque Left & Right / Torque Split + Total Combined Torque)
Digital Axle Speed Sensors (Left & Right / Combined Axle Speed / RPM)
Wide vehicle track capabilities (Allows testing wide vehicles & off-road buggies)
Up to 3600 Axle Rpm / 500 kph / 310 mph test speeds (Subject to vehicle gearing)
2000 & 3000+ Horsepower & 6500Nm / 4800Ftlbs or 9000Nm / 6638 Ft lbs torque capacity
Rolling workstation control & storage cabinet with single or twin boom arm/s*
Automatic vehicle cooling fan control (User definable On / Off control)

*

Automatic AFR / Lambda meter heater control (User definable on / Off control)

*

Automatic weather station included standard (Live & continuous vehicle power correction)
Advanced dyno controller (Precise, accurate, safe, super responsive & repeatable)
Wireless keyboard dyno controller (All dyno control / operation from within the vehicle)
Computer control system, and Windows 10 ™ OS standard
Mainline DynoLog L Series or Premium Pro Dyno Operating Software for Windows 10™
Steady state and dynamic power acceleration / ramp / pull / tests
Torque & Power traces plotted live to screen / "Live as you drive" (Up to 6 channels simultaneously)
Graph over graph comparison tests (Power / Torque graph over axle speed and engine RPM)
Dedicated detailed graph data analysis screen (Compare up to 12 graphs simultaneously)

*

Multiple Digital data displays (Operator definable 1 to 77 Displays)

*

Multiple Channel alarms (Operator definable warnings for dyno data channel)
Wide band AFR meter (Definable – Petrol, Diesel, LPG, CNG, Methanol, Ethanol, E10 & E85)
AFR, Lambda or Air-Fuel Equivalence Ratio selections
Multiple AFR / Lambda meters support (Up to 8 meters connected simultaneously)

*

Multiple copy channels (Display AFR and Lambda values simultaneously)
Target Air: Fuel Ratio, & on screen graphical and advanced correction calculator
Twin MAP/ Boost sensors (Pressure Drop Testing & Analysis)

*

Target Boost & graphical and advanced correction calculator
Up to 200 MATHS channels (Fully user configurable- Add your own calculation channels)

*

Dedicated Torque optimisation functions – (Torque over ignition timing, AFR, Camshaft timing, Injector timing, throttle %, or user definable data parameters)

*

ECU Data Logging Software Interface (Support for more than 200 aftermarket ECU's)
Test Data Management System (Log, display, graph, save, recall, edit, reprint saved test results)
Customised reports - insert business logo, or other images on print reports and much more!
Fully expandable – Hundreds of options, and more than 400 supported external devices
* Subject to model or optional addition 
Specifications

PORTABLE MODELS COMPARISON CHART

FEATURE

2000L Series

3000L Series

2000P Premium

3000P Premium

POWER ABSORPTION MODULES

Portable

Portable

Portable

Portable

Eddy Current Retarders

2

2

2

2

Torque Capacity (Newton Metres)

6500 Nm

9000Nm

6500 Nm

9000Nm

Torque Capacity (Foot-Pounds)

4800 ft lbs

6638 ft lbs

4800 ft lbs

6638 ft lbs

Power Capacity Kilowatts

1492 Kw

2238 Kw

1492 Kw

2238 Kw

Power Capacity Horsepower

2000 Hp

3000 Hp

2000 Hp

3000 Hp

Maximum Axle Weight Capacity Kilograms

2500 Kg

2500 Kg

2500 Kg

2500 Kg

Maximum Axle Weight Capacity Pounds

5511 Lbs

5511 Lbs

5511 Lbs

5511 Lbs

Torque Reaction Arms / Bars
 (Adjustable/ Retractable)

2

2

2

2

Minimum Vehicle Wheel Track

Subject to Vehicle

Subject to Vehicle

Subject to Vehicle

Subject to Vehicle

Maximum Vehicle Wheel Track

Subject to Vehicle

Subject to Vehicle

Subject to Vehicle

Subject to Vehicle

Recommended Floorspace Length

Subject to Vehicle

Subject to Vehicle

Subject to Vehicle

Subject to Vehicle

Recommended Floorspace Width (Minimum)

5000 mm

5000 mm

5000 mm

5000 mm

Recommended Floorspace Width (Minimum)

197 Inches

197 Inches

197 Inches

197 Inches

WORKSTATION / CABINET

 
 
 
 

Basic Workstation with Boom Arm

Standard

Standard

N/A

N/A

Deluxe Cabinet with Twin Boom Arms

Option

Option

Standard

Standard

Automatic Vehicle Cooling Fan Control

Option

Option

Standard

Standard

24" Monitor

Standard

Standard

Standard

Standard

24" Twin Monitors (Extended Desktop Mode)

Option

Option

Standard

Standard

24" Triple Monitors (Extended Desktop Mode) 

N/A

N/A

Option

Option

Desktop PC, Win 10 OS (Solid State HDD)

Standard

Standard

Standard

Standard

Wireless Trackball Remote Keyboard Controller

Standard

Standard

Standard

Standard

COOLING FAN

 
 
 
 

Vehicle Cooling Fan (18-18 Blower - 7.5kW / 10Hp Motor)
International Voltages Available - USA / Japan

Option

Option

Option

Option

Variable Speed Control (VSD)
(Controls Cooling or Cell Fans)

N/A

N/A

Option

Option

DYNAMOMETER CONTROL / DAQ SYSTEM

 
 
 
 

Dynamometer PID Controller / DAQ Module

54 Chan PID /DAQ

54 Chan PID /DAQ

54 Chan PID /DAQ

54 Chan PID /DAQ

DATA ACQUISITION SENSOR INPUTS

 
 
 
 

Automatic Weather Station

Standard

Standard

Standard

Standard

Wide Band Air: Fuel Ratio/ Lambda Meter

Standard

Standard

Standard

Standard

MAP / Boost Module ( 7 BAR Pressure Sensors)

1

1

2

2

Combined Engine RPM Logging Kit (Inductive & Voltage Probes - RPM to Axle Diagnostics- Convertor Slip / Efficiency % etc)

Standard
Standard
Standard
Standard

SOFTWARE PROGRAM

 
 
 
 

Dynamometer Software Package

L Series (Light)

L Series (Light)

Premium Pro

Premium Pro

Dynamometer Free Software Updates

12 Months)

12 Months

Lifetime

Lifetime

MATHS Channels (User Definable)

2

2

200

200

ECU Data Logging Module

Option

Option

Option

Option

ECU Data Logging Module - Single ECU Brand

Option

Option

Option

Option

PRODUCT SUPPORT & WARRANTY

 
 
 
 

Tech Support - Phone; Email; InternetMDD Internal Workshop Banner

12 Months Subscription

12 Months Subscription

*Lifetime

*Lifetime

Manufacturer Warranty Period (Components)

12 Months

12 Months

24 Months

24 Months

Warranty Exclusions

Consumables

Consumables

Consumables

Consumables

MISCELLANEOUS

 
 
 
 

AFR Meter Extended Exhaust Probe

1

1

1

1

AFR Meter Restraint Strap

1

1

2

2

Vehicle Earth Strap

1

1

1

1

 

Standard

Standard

Standard

Standard

MDD Internal Workshop Sign

Option

Option

Standard

Standard

MDD External Workshop Sign

Option

Option

Standard

Standard

ProHub Internal Sign

Option

Option

Standard

Standard

MDD ProHub Promo Pack

Standard

Standard

Standard

Standard

POWER REQUIREMENTS

 
 
 
 

Voltage

208V to 415V

208V - 415V

208V - 415V

208V - 415V

Phase

1 / 3

1 / 3

1 / 3

1 / 3

AMPS

50 to 100 AMPS

50 to 100 AMPS

50 to 100 AMPS

50 to 100 AMPS

Frequency

50/60 Hz

50/60 Hz

50/60 Hz

50/60 Hz

International Voltages - USA, Japan Ph 1 / 3

Available

Available

Available

Available

 

 
 
 
 
 PACKAGE PRICING

POA

POA

POA

POA
 *Original purchaser only