TEST - ANALYSE - TUNE - REPORT
If you are seeking the most advanced and innovative motorcycle dyno system, then look no further. The Mainline DynoLog MCD400L Series Motorcycle Dyno will take you to the forefront of motorcycle performance measurement technology, and beyond. The MCD400L series motor cycle chassis dynamometer is our new high quality, high performance designed system that includes all the essential analytic and tuning tools required for vehicle fault diagnosis, general engine tuning, and performance enhancement applications, at a very affordable price !
Fully designed, engineered and manufactured in Australia, the new MCD400L series motor cycle chassis dyno will enable you to increase your workshop's production, attract more customers, generate additional income for your workshop, and substantially add to your bottom line !
The new MCD400L series can be upgraded with a multitude of available hardware and software options, providing the opportunity to add further capabilities to your existing system, and increase the value of your dynamometer, and your business asset.
Motorcycle Applications
Road Bikes / Competition Bikes
Off Road / Trail Bikes
Custom Bikes & Choppers
Key Features
Up to 300 kph / 186 mph test speeds ( Optional 400 kph / 250 mph) 
940 Hp / 700Kw @ 300 km/h Power Rating
High quality, and visually aesthetic, chassis bed
Above ground operation (Ramp included as Standard)
Quality high capacity Frenelsa retarder (PAU - Power absorption unit)
Low inertia 405mm single roller design
High traction roller knurl (also suitable for off road knobby type tyres)
Front Wheel Clamp Assembly & Motorcycle Restraint Kit standard
16 motorcycle restraint anchor points
Pull down ratchet strap restraints
Front Wheel Clamp
Adjustable Wheelbase ( Standard and Choppers etc)

Pull down ratchet strap restraints

Workstation control & storage cabinet – standard
Automatic weather station included standard ( Live & continuous vehicle power correction)
Industry leading dyno controller and DAQ system (Precise, accurate, safe, super responsive & repeatable)
Wireless keyboard dyno controller
Computer control system, 22" LCD colour monitor, and * Windows 7 ™ OS standard
Mainline DynoLog L series Dyno software for * Windows 7™
Steady state and dynamic power acceleration / ramp / pull / tests
Dynamic graph live to screen (graph up to 3 data channels simultaneously)
Graph over graph comparison tests ( Power / Torque graph over road speed or engine RPM)
Dedicated detailed graph data analysis screen
Digital data displays (Operator definable)
Channel alarms (Operator definable warnings for dyno data channel)
Advanced user definable MATH channels
Wide band Air: Fuel Ratio / Lambda Meter – AFR, LAMBDA or Equivalence Ratio ( AFR Fuel Selections - Petrol, Diesel, LPG, CNG, Methanol, Ethanol, E10, E85 & Custom Stoich)
Target Air: Fuel Ratio Correction Graph
Twin MAP/ Boost sensors (Pressure Drop / Differential Pressure Testing & Analysis) 
Target Boost Correction Graph
Test Data Management System (Log, display, graph, save, recall, edit, reprint saved test results)
Customised reports - insert business logo, or other images on print reports and much, much more!
Fully expandable – Hundreds of available options, and more than 250 supported external devices
Numerous options & accessories available
Trusted Mainline DynoLog technology – Accurate, Consistent, and Repeatable !
Performance Measurement Specifications
700Kw (940Hp) Power Rating
1700Nm (1254ftlbs) Roller Torque Rating
300km/h Maximum Test Speed ( Optional 400 kph / 250 mph)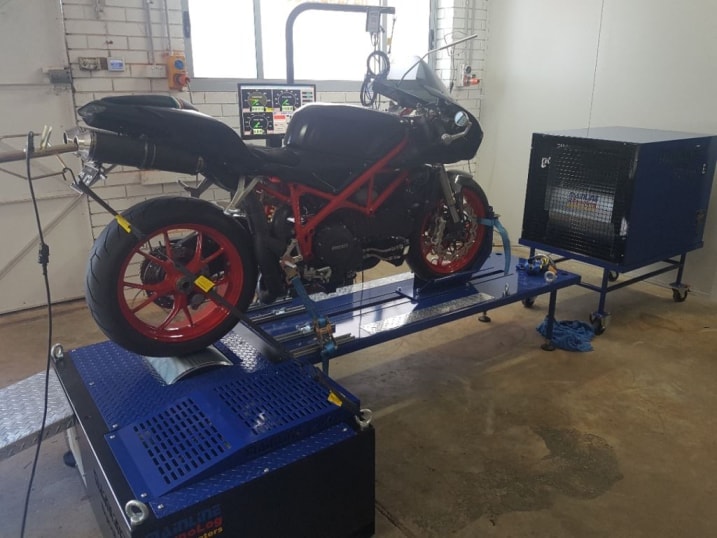 Dyno Software Screenshots
(Click image to enlarge)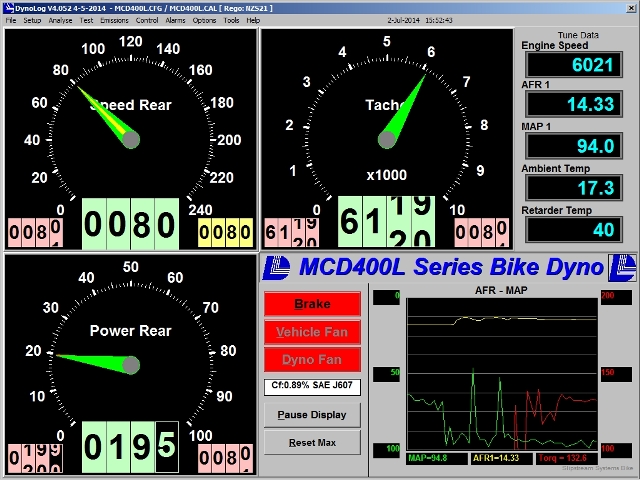 Main Screen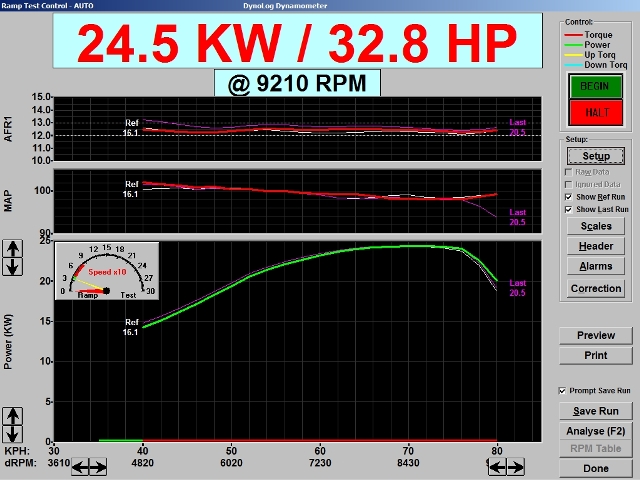 Ramp Test Screen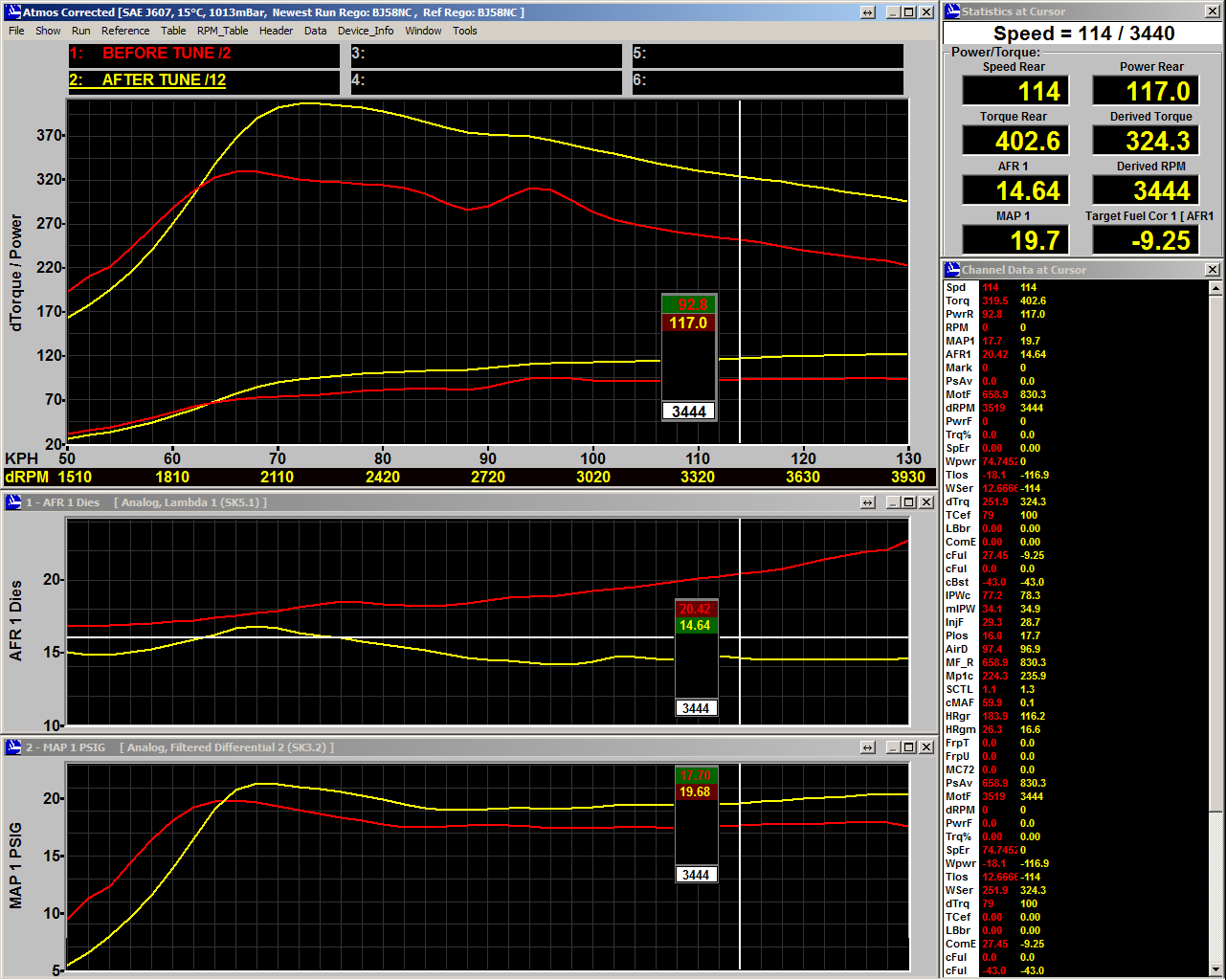 Analyse Data Screens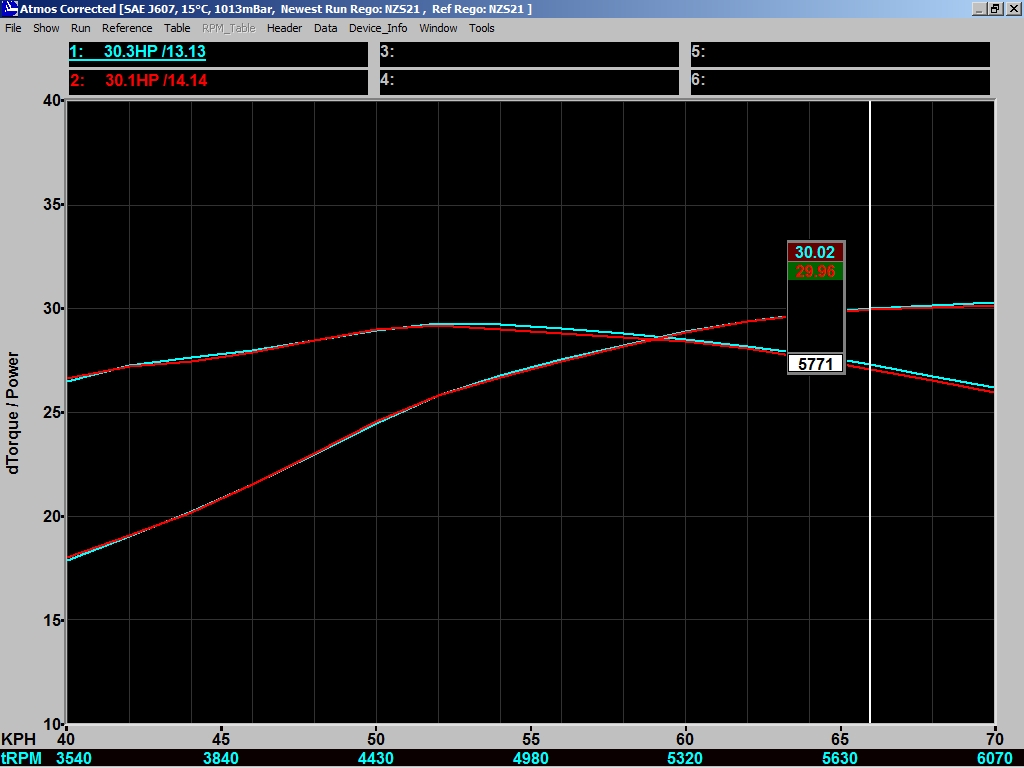 Power & Torque Vs Road Speed & Engine RPM

*Further options available. 
*Windows is a registered trademark of Microsoft Corporation